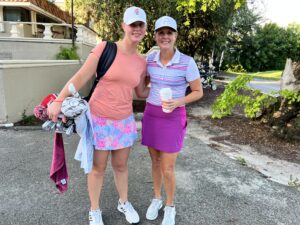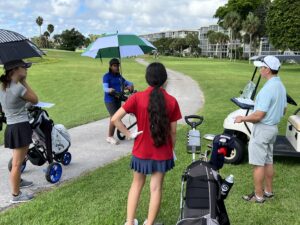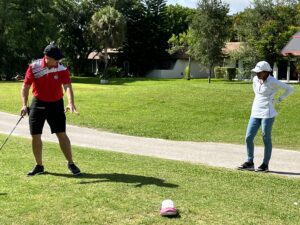 July 5, 2022 … Week 4 of the 2022 JGA season is in the books! Everyone was at Palm Aire Country Club this week. It was a busy day, filled with lots of fun golf and lots of shuttling to the starting tees! Thank you for our volunteers for helping today! Check out photos from the fun day HERE.
Congratulations to our medalists of the day:
Boys Championship: 1st place: Sam Davey, 2nd place: Brady Vitucci, 3rd place: Terry Moore
Girls Championship: 1st place: Abigail Lee, 2nd place: Bianca Gibbs, 3rd place: Kierra Williams
Boys Junior: 1st place: Liam Ly, 2nd place: Hudson Hall, 3rd place: Elijah Ritchie
Girls Junior: 1st place: Morgan Cole, 2nd place: Yool Her, 3rd place: Mirabelle DeAngelis
Boys A: 1st place: Christian Scradeanu, 2nd place: Hans Olbrich, 3rd place: Brody Kefford
Girls A: 1st place: Maria Wiemerslage, 2nd place: Jordan Brown, 3rd place: Valentina Gorgiglia
Boys B: 1st place: Jake Preville, 2nd place: Ansh Shalia, 3rd place: Andrew Del Cristo
Girls B: 1st place: Anissa Mills, 2nd place: Kate Mackie, 3rd place: Lucia Bastidas
Boys C: 1st place: Haoting Zhou, 2nd place: Kevin Palmer, 3rd place: Jordan Everett
Girls C: 1st place: Sofia Wood, 2nd place: Cooper Aucoin, 3rd place: Sophia Wang
Boys D: 1st place: Julian Andrews, 2nd place: Lucas Ortega, 3rd place: Fabian Harris
Boys E: 1st place: Zachary Zona, 2nd place: Ty Herbster, 3rd place: Israel Mills
Boys F: 1st place: Brody Aucoin, 2nd place: Dylan Barysau, 3rd place: Samuel Torres
WE ARE LOOKING FORWARD TO SEEING YOU ALL NEXT WEEK!!!!!