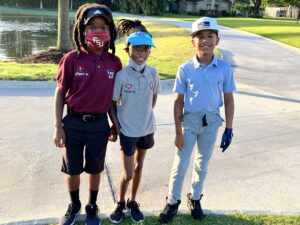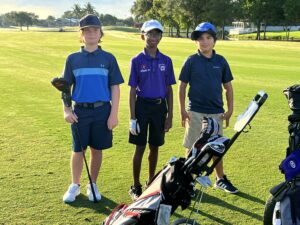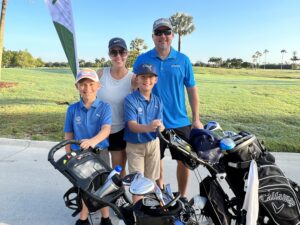 June 27, 2022 … Week 3 of the 2022 JGA season is in the books! We were all one happy family, as this week everyone played at Lago Mar Country Club. It was a busy day, filled with lots of golfers and their wonderful families! Check out photos from Week 3 HERE!
Congratulations to our medalists of the day:
Boys Championship: 1st place: Oscar Crowe, 2nd place: Sam Davey, 3rd place: JJ Her
Girls Championship: 1st place: Amelie Alcantara, 2nd place: Bianca Gibbs, 3rd place: Morgan Herring
Boys Junior: 1st place: Kolton Viveros, 2nd place: Liam Johnston, 3rd place: Josepha Hendren
Girls Junior: 1st place: Megan Bermejo, 2nd place: Gianna Villella, 3rd place: Elisa Hernandez
Boys A: 1st place: Justin Laing, 2nd place: Michael Salvanto, 3rd place: Kevin Ricks
Girls A: 1st place: Myla Kumar, 2nd place: Sutton Oosterhuis, 3rd palce: Jordan Brown
Boys B: 1st place: Cristian Scradeanu, 2nd place: Agustin Bunuel, 3rd place: Andrew Del Cristo
Girls B: 1st place: Sophia Park, 2nd place: Ava Koury, 3rd place: Leah Aguayo
Boys C: 1st place: Tanner Sankey, 2nd place: Jordan Everett, 3rd place: Dylan Frost
Girls C: 1st place: Lucia Bastidas, 2nd place: Gabrielle Ritchie, 3rd place: Aryan Alexander
Boys D: 1st place: Zachary Goiomb, 2nd place: Bobby Love, 3rd place: Floyd Harris
Boys E: 1st place: Fabian Harris, 2nd place: Brody Thomas, 3rd place: Jake Park
Boys F: 1st place: Jayden Lee, 2nd place: Logan Branding, 3rd place: Samuel Torres
WE ARE LOOKING FORWARD TO SEEING YOU ALL NEXT WEEK!!!!!