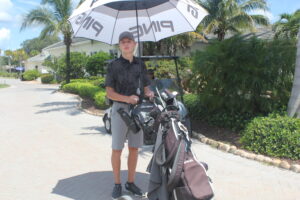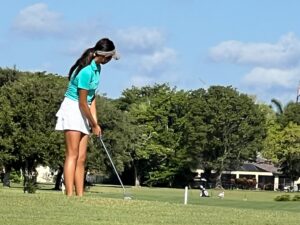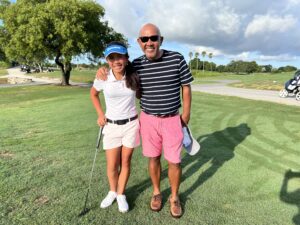 June 20, 2022 … Week 2 of the 2022 JGA season is in the books! This week's tournaments were played at The Country Club of Coral Springs and Woodmont Country Club. A little lightning delay didn't damper our fun! In fact, the kids at Course A kept busy with a golf themed app based trivia game during the delay! It was awesome! Keep an ear out for it if we have any future delays (those darn Florida summer thunderstorms). Check out photos from Week 2 HERE!
Congratulations to our medalists of the day:
Boys Championship: 1st place: Oscar Crowe, 2nd place: JJ Huyn Her, 3rd place: Terry Moore
Girls Championship: 1st place: Sophia Coronel, 2nd place: Amelie Alcantara, 3rd place: Bianca Gibbs
Boys Junior: 1st place: Robert Messer, 2nd place: Patrick Pinkney, 3rd place: Liam Ly THEY HAD A FUN TWO PERSON PLAYOFF FOR FIRST PLACE!
Girls Junior: 1st place: Megan Bermejo, 2nd place: Isabella Russo, 3rd place: Keira Ly
Boys A: 1st place: William Johnston, 2nd place: Lucas Gorziglia, 3rd place: Michael Salvanto
Girls A: 1st place: Megan Bermejo, 2nd place: , 3rd palce: Isabella Rubio
Boys B: 1st place: Trey Claxton, 2nd place: Andres Hernandez, 3rd place: Justin Laing THIS WAS AN EXCITING GROUP! A THREE WAY TIE FOR FIRST PLACE RESULTED IN A THREE PERSON PLAYOFF!!!!
Girls B: 1st place: Mallaina Williams, 2nd place: Anissa Mills, 3rd place: Ava Koury
Boys C: 1st place: Cristian Scradeanu, 2nd place: Tanner Sankey, 3rd place: Kevin Palmer
Girls C: 1st place tie: Ariel Change, Sophia Park, Summer Saunders
Boys D: 1st place: Gabriel Torres, 2nd place: LJ Martin, 3rd place: Will Parker
Boys E: 1st place: Gray Arrington, 2nd place tie: Julian Andrews & Colton Lewis
Boys F: 1st place tie: Jackson Grossman & Clayton Parker, 2nd place: Jacob Reid
WE ARE LOOKING FORWARD TO SEEING YOU ALL NEXT WEEK!!!!!