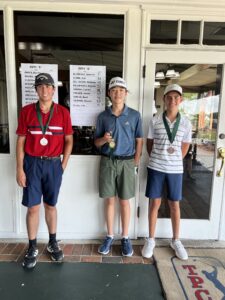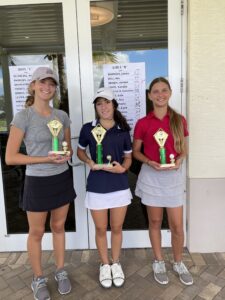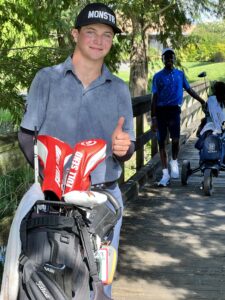 July 11, 2022 … Week 5 of the 2022 JGA season was a great success! We were back to two courses this week! Thank you to Eagle Trace Golf Club for being Course A and to the Country Club of Coral Springs for hosting as Course B! Thank you for our volunteers for helping today! Check out photos from the fun day HERE.
Congratulations to our medalists of the day:
Boys Championship: 1st place: Terry Moore, 2nd place: JJ Huyn Her, 3rd place: Henry Crowe
Girls Championship: 1st place: Amelie Alcantara, 2nd place: Abigail Lee, 3rd place: Morgan Herring
Boys Junior: 1st place: Samuel Netkin, 2nd place: Cristian Scradeanu, 3rd place: Champ Smith
Girls Junior: 1st place: Ashley Balcom, 2nd place: Yool Her, 3rd place: Cindi Cooper
Boys A: 1st place: Thomas Rodriguez, 2nd place: Jake Preville, 3rd place: JD Reinikainen
Girls A: 1st place: Chloe Marie Christofidis, 2nd place: Maria Wiemerslage , 3rd place: Jordan Brown
Boys B: 1st place: Kai Clark, 2nd place: Alex Slinsky, 3rd place: Andrew Del Cristo
Girls B: 1st place: Gabriella Parisotti, 2nd place: Cooper Aucoin, 3rd place: Elle Rowe-Renkoff
Boys C: 1st place: Jordan Everett, 2nd place: Bobby Love, 3rd place: Troy Sova
Girls C: 1st place: Anastasia Todoric, 2nd place: Royce Jones, 3rd place: Aryan Alexander
Boys D: 1st place: Ryan Bombulie, 2nd place: Zachary Zona, 3rd place: Jake Park
Boys E: 1st place: Broday Aucoin, 2nd place: Ryan Foster, 3rd place: Logan Branding
Boys F: 1st place: Brody Aucoin, 2nd place: Dylan Barysau, 3rd place: Samuel Torres
WE ARE LOOKING FORWARD TO SEEING YOU ALL NEXT WEEK!!!!!