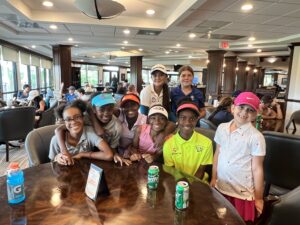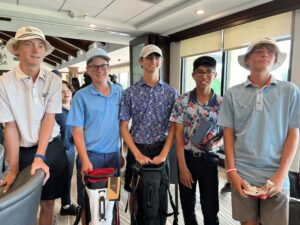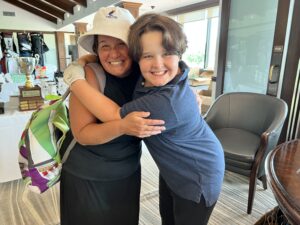 August 1, 2022!!… Our annual three day Championship tournament was amazing! There was lots of great golf to be seen at each division! The afternoon ended with lunch and an incredible awards ceremony. Check out photos from the fun day HERE.
Congratulations to our medalists of the three day tournament:
Boys Championship: 1st place: Oscar Crowe, 2nd place: Jj Huyn Her, 3rd place: Easton Viveros
Girls Championship: 1st place: Amelie Alcantara, 2nd place: Jade Scott, 3rd place: Kierra Williams
Boys Junior: 1st place: Justin Laing, 2nd place: Joseph Hendren, 3rd place: Samuel Koster
Girls Junior: 1st place: Cindi Cooper, 2nd place: Laura Monsalve, 3rd place: Ophelia Bunel
Boys A: 1st place: Jake Preville, 2nd place: Mason Sterner, 3rd place: Thomas Rodriguez
Girls A: 1st place: Isabella Rubio, 2nd place: Justine Thiemens, 3rd place: Mallaina Williams
Boys B: 1st place: Andrew Del Cisto, 2nd place: Jordan Everett, 3rd place: Rafael Barreto Jimenez
Girls B: 1st place: Sophia Wang, 2nd place: Zoe Wechsler, 3rd place: Elle Rowe-Renkoff
Boys C: 1st place: Jacob Thompson, 2nd place: Dylan Frost, 3rd place: Tanner Sankey
Girls C: 1st place: Royce Jones, 2nd place: Elyssa Forbes, 3rd place: Makenna Maughn
Boys D: 1st place: Jacob Reid, 2nd place: William O'Connor, 3rd place: Israel Mills
Boys E: 1st place: Jayden Lee, 2nd place: Logan Branding, 3rd place: Clayton Parker
Boys F: 1st place: Ryan Bragg, 2nd place: Charlie Parkinson, 3rd place: Sawyer Parkinson
THANK YOU FOR A GREAT 2022 SEASON! SEE YOU NEXT SUMMER!